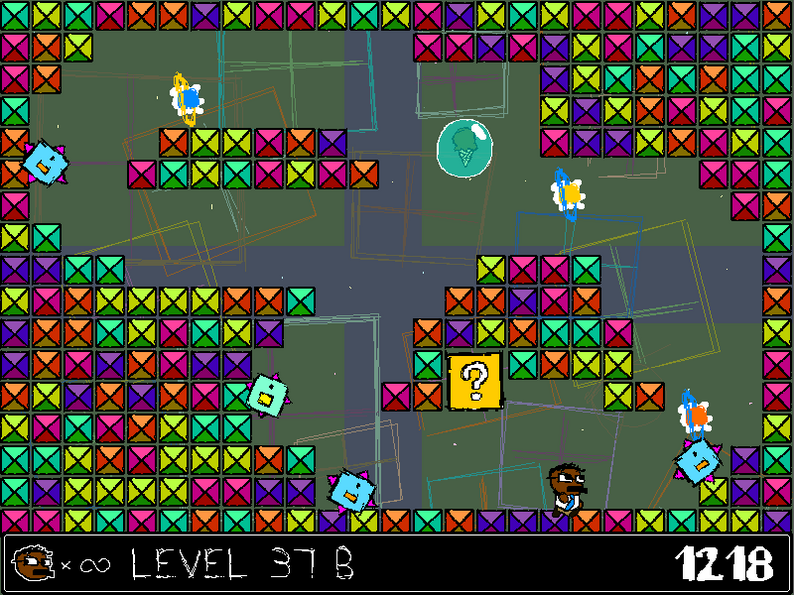 In October 2011 I was kind of drunk. Just kind of drunk. Not like blacked out or anything. But definitely not capable of operating a motor vehicle.
This was my first time at IndieCade, because one of my games was nominated. That was Deepak Fights Robots, the best game I've made. That was the game I pinned my future on when I was finishing college. That was the game I tried to get published and stormed off with when I got lowballed. That was the game that got rejected by Steam. That was the game I said "fuck it" with, that was the game I holed up in my room to make perfect so that when I emerged with a confusing self-published website for buying it nobody had any idea I was even selling anything.
"They offered you fifteen grand and you TURNED THEM DOWN?" is what my brother said later that summer, after I got a real job in Scranton. I bet on myself, and I ended up in Scranton.
Deepak Fights Robots was nominated at IndieCade, so I went. Los Angeles beats the hell out of Scranton in October, and I imagine any other month as well. I'd heard good things about IndieCade, and I didn't expect to win anything, though I felt I deserved to.
The first night they bused us out to Santa Monica and herded us along a red carpet. A C-list celebrity introduced a man from LG who spoke in broken English about the wonders of their monitors or graphics cards or some shit. Another C-list celebrity introduced the nominees for excellence in Game Design. Deepak Fights Robots! Some cheers. FEZ! Roaring.
Before the show I skulked around the reception drinking free keg beer and glaring at people who had made better, more famous, more profitable games than my own. Capybara I think. Phil Fish for sure. Alexander Bruce. Terry Cavanagh. Terry and I were cool actually; he was one of the few game designers I wasn't an asshole to. Still. How come none of them had to live in Scranton?
They said Deepak Fights Robots won the award and I was kind of drunk. I looked around our table, then at my best friend Salil, whose father was the basis for Deepak, and then I stood up, and I walked over to the side of the auditorium, and I walked up to the stage, and I walked up the little steps onto the stage, and I walked over and somebody handed me the award — this little darling handmade robot statue — and shook my hand and gestured to the podium and I walked over to that. And I couldn't see anything because of the lights, but I squinted and faced the room, and I didn't plan this.
I said, "I'm Tom Sennett…" and I felt a lump in my throat that I choked through, "…and I don't give a fuck!" And I flipped off the whole indie game community with both hands in the air, wearing the corduroy blazer that'd been drawn into my TIGSource avatar since I was in high school. I was met with dead silence, save a few people in the back properly losing their shit. I turned back to where I'd come from, and I walked off the stage.
And I went to walk back to my seat but somebody directed me out another door. And there was the guy who gave me the award, a voice actor for some AAA games or somebody, who had been told he would take photos with the award winner, but who had not been told that award winner might be inebriated and surly. I was both and I didn't say anything, and I didn't smile for the camera.
I walked back toward my seat but kept going, back to the empty lobby, and the keg. I couldn't find a cup, so I grabbed a can of Arizona iced tea from a cooler, dumped it out, and filled it with beer. I took it outside and wished that I smoked cigarettes.
A woman came outside in a huff and accosted me.
"What was that?" She gasped.
I shrugged.
"Why did you do that?" She asked. I pointed at a big banner plastered in LG logos.
"That's why I did that. Everywhere you look around here is a goddamned corporate logo, and none of this would even be here if not for people like me."
And we debated for a few minutes. It's easy to get on a high horse when you're already broke and kind of drunk. She folded her arms and went back inside, and I drank from my can and stood on the sidewalk.
Salil came out to be a good friend. We talked for a bit. I noticed a guy on his phone nearby, and I looked him up and down for a minute, and then I said:
"Holy shit, you're Bryan Lee O'Malley."
And he was. I was a big Scott Pilgrim fan and I told him. He had been a judge and loved Deepak Fights Robots. He'd lobbied hard for it to win the Game Design award.
I felt like shit all night.
I woke up in the Travelodge Culver City and put on sunglasses to go get Gatorade. I called my dad, who looped me in to a call he was having with my brother. I told them what I did and I was kind of ashamed of it. They were in shock for a second, then they pretty much found it funny, and laughed it off and called me an asshole.
When I got back to our hotel room, I sat on the couch holding my little statue. I already knew I made an amazing game. Why did I care if anybody told me so?
The rest of the weekend few people mentioned what I did — those who did were fiendishly amused by it. I suspected a lot of people were treating me like an asshole without telling me to my face. Deepak Fights Robots never made any money and I kept living in Scranton.
The next year, Salil and I returned to support our game Row Row Row Remote, and I ran into the woman who'd been exasperated with me, and she was nothing but gracious. She gestured around and asked if I saw a difference. I didn't know what she was talking about.
"We really cut back on the corporate branding! And we're making much more of an effort to highlight the games themselves." I smiled and said that's great. But I didn't really care.
She also said they developed a contingency plan in case anybody tried to pull some crazy shit on stage this year, since they apparently didn't know what to do after I walked off. That amused me.
IndieCade is my favorite game event, because much of it is open to the public. It's illuminating and delightful to watch people outside the bubble experience indie games, or even games, for the first time. It's cool as hell to watch a 5-year-old girl and her grandfather wander into a big open firehouse and find themselves yelling into a microphone to shoot lasers at aliens, when they were just out for a walk.
Awards are bullshit, but it's all bullshit. Everybody gets sucked into their little world and worries about keeping up with trends and being innovative and making Art.
I'm not the kind of guy who thinks you can learn a lot sitting in a room listening to people talk about doing things. And I still get petty and jealous about my peers and their work, and I rely a lot on outside validation, and I'm still terrible at making money off my games. But I think one indicator that I've grown up a bit is I no longer feel the need to shit on people who are trying to build a community. It's noble work, and I have little patience or skill for it, and the older I get the more important it feels.
So, five years after receiving the Game Design award at IndieCade, let me go on the record with something I never actually said:
Thanks.