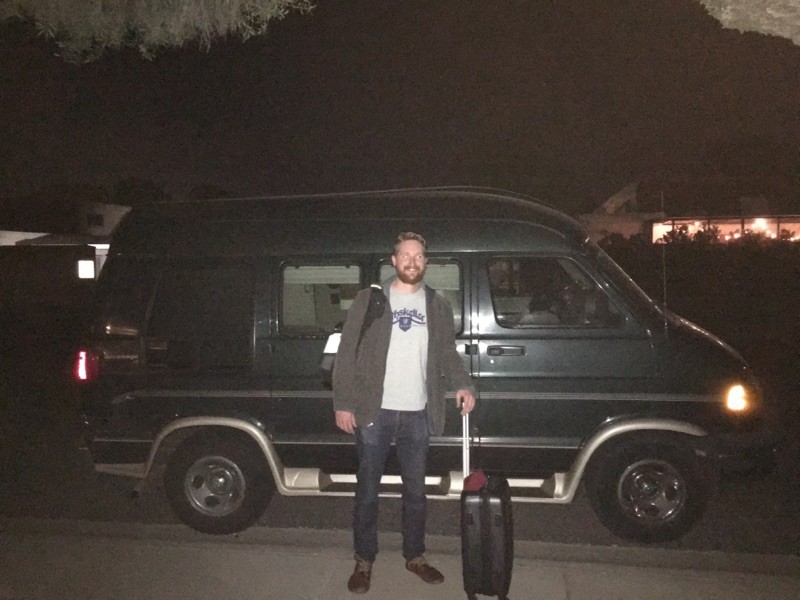 How do you get from Atlanta to San Francisco? Cover the miles. You can walk, bike, drive, ride a train or a plane or a horse or a donkey. But whatever you do, you gotta cover the miles.
I drove 10,000 miles before West Texas burned my van's soul out. I survived three nights in Midland, where monstrous metal drinking birds bob on the horizon, and I came in hot to El Paso, which nobody told me is literally right next to Mexico.
I'm not mechanically inclined and I previously destroyed a car due to negligence, so when my engine started to overheat after dumping 3 gallons of coolant into it earlier in the day, I panicked a little bit. Selene gave me problems since day one, but this felt more serious. When you live out of your vehicle, the prospect of damage to said vehicle is amplified.
I limped into Scottsdale and crashed with friends for the weekend, and on Monday Marshall's Auto Service pronounced her terminal. Water was mixing with oil somewhere inside the engine, which meant nothing would be properly lubricated, which meant something was going to crack, sooner than later. My girl had a broken heart pumping tears through her veins.
How do you get from Atlanta to San Francisco? First, get to Scottsdale. Then, cover the miles.
I don't know how to fix a broken engine in a 2002 Dodge Ram van, but that wasn't the problem I needed to solve. I needed to get myself to the Bay, and I was ready to take a 22 hour bus ride to do so. Thankfully I was able to get a 2 hour plane ride for about $10 more.
For the sixth time in as many months, I cleaned out my living space, reorganized, and shed a bunch of stuff. I consolidated everything I needed into a backpack and a carry-on bag, left a few things for my friends to take back East eventually, and said goodbye to a vehicle that represented a lot to me, but ultimately was just a tool.
Getting from Atlanta to San Francisco is a simple problem. How do you do it? Cover the miles. When Plan A (drive a van) doesn't work, Plan B (take a plane) is a very reliable backup. You know for a fact that either of those things will get you to San Francisco.
A lot of problems I've been having lately are not simple. How do you make money as a creative? How do you figure out where and how to live? How do you maintain relationships with people who matter and start up new meaningful ones? You know, how do you live a good, satisfying life?
So I'm grateful when I run into a simple problem. How do you get in shape? Eat better and exercise. What do you do when you break a tooth? Go to the dentist and get it fixed. Where can you find a postcard and a mailbox in Biloxi? Go into that Walgreens and ask somebody. How do you get from Atlanta to San Francisco? Cover the miles. When I encounter a simple problem I am psyched, because I already have an arsenal of solutions that I know will work.
So don't get vexed when your van breaks down. There's other ways to get where you're going. Just be glad you have a destination.
I'm here in San Francisco for the Game Developers Conference this week, and then, who knows? I'll face some simple problems like finding a place to live and getting myself there. Those I'm not worried about. Those things are easy. But I have to figure out bigger, less straightforward stuff first.
I gotta figure out where to go, and I think for all of us that's the main challenge. Getting there is simple.